Schools
John O'Gaunt Community Technology College
Berkshire's first Community School.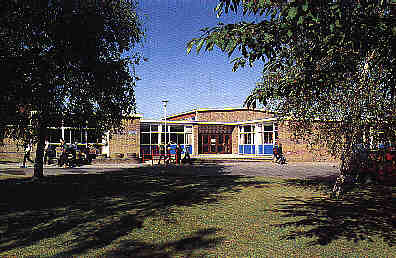 Set in rolling downland on the edge of Hungerford, John O'Gaunt is a mixed 11-16 school, with an attached Sixth Form, serving the Kennet and Lambourn Valley area of West Berkshire . The fine setting amidst extensive playing fields gives an ideal environment for serious study .
John O'Gaunt aims to promote standards of excellence. Each student is recognised as an individual and encouraged to develop academically, physically and spiritually his or her own potential. This is supported by a strong pastoral and guidance programme led by tutors, Heads of Hall and Lead Academic Tutors.
Whilst we emphasise academic achievement, good conduct and hard work, the school is a friendly and supportive community. A strong departmental structure ensures continuity and progression. Students build on their experiences in core and foundation subjects and enjoy exciting cross-curricular experiences in many areas ranging from the modern world of information technology to the creativite and expressive arts.
Expectations and aspirations are high, with key foci on high levels of attendance, very good levels of behaviour, supported by a broad curriculum, accessible to all. The school is currently embarking on a large refurbishment plan to provide the students with excellent facilities in which to work to supplement the many already outstanding resources that have been available for a number of years. Amongst these are science laboratories, technology areas, sports hall, information technology suite and an all weather Astroturf pitch, which provide for the pupils and the local community.
Headteacher: Mr Neil Spurdell
J John O'Gaunt Community Technology College , Priory Road , Hungerford, Berkshire RG17 0AN
Tel: 01488 682400; Fax: 01488 681283
See also: website
---
Hungerford Primary School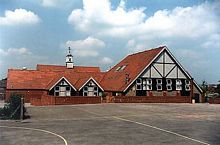 Hungerford School opened in 1910, taking pupils up to the age of 14 in very crowded and cramped conditions.
Today, the school is a different place; light, airy and open plan in design. It is allowed to take a maximum of 392 pupils and there are currently 365 on roll.
The original school became a primary school in January 1963, when the senior pupils transferred to the newly built secondary - John O'Gaunt. The then headmaster Mr Davies, was praised in an HMI report for his patience and concern for pupils, despite the tremendous difficulties of staffing and accommodation.
The school is now two-form entry with a maximum intake of 56 pupils per year group. Most of our pupils are taken from The Croft Nursery School. Plenty of visits and much liaison takes place so that children and parents feel it is a natural and comfortable progression.
Of course, many things have changed over the last ninety years. The school was extended in 1991 (The new building officially opened in 1992). A covered swimming pool was built in 1980 and all pupils from Year 1 upwards have swimming lessons in the summer term.
Past pupils would find that their old assembly hall is now a modern computer suite complete with eighteen networked machines and a whiteboard to enhance teaching. All pupils in Year 3 upwards have their own e-mail address and regularly use the Internet to support their learning needs.
Interactive whiteboards have been fitted in half of the classrooms (September 2004) and there is a commitment to installing them in the rest of the teaching rooms by July 2005.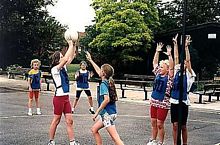 The national curriculum is covered from Years 1 - 6 and includes daily Literacy and Numeracy Hours. The topics are subject-based, ranging from The Gambia in Geography, to The Earth in Space in Science. The aim is to offer a broad and balanced curriculum, encouraging children to become lifelong learners.
One aspect that hasn't altered over the years is the commitment from the school to be part of the local community. Visitors find the ethos of the school warm and welcoming and the aims of the staff include developing an awareness of, and concern for, others in the community.
The Headteacher and Staff of Hungerford Primary School continue to work towards improving and updating all aspects of school life and moving forwards in the 21st century.
Moving to the area? Live close by? Please visit us and see for yourselves.
Headteacher: Karen Sawyer
Hungerford C.P. School, Fairview Road, Hungerford, Berkshire RG17 0BT.
Tel: 01488 682230 Fax: 01488 681625
---
Chilton Foliat C. of E. Primary School
Chilton Foliat is a small village located in the valley of the River Kennet about 2 miles North West of Hungerford. The school lies on the northern edge of the village, bordered by fields to the North and West.
Head Teacher: Mrs Anne Niewiadomski
Chilton Foliat C. of E. Primary School, Stag Hill, Chilton Foliat, Hungerford, Berkshire RG17 0TF

Telephone & Fax: 01488 682630
Website www.chiltonfoliatprimary.co.uk
---
Hungerford Children's Centre
including Nursery School &
Centre for Children and Families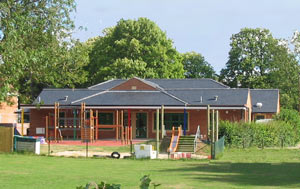 We are a Local Authority school offering places to children living in Berkshire for three terms prior to commencing statutory schooling at the age of five years.
'We offer four hours each day from 9am – 1pm or 10.45am – 2.45pm , both sessions include lunch. This gives the opportunity for a well structured time - all children will have the appropriate introduction to the Foundation Stage curriculum.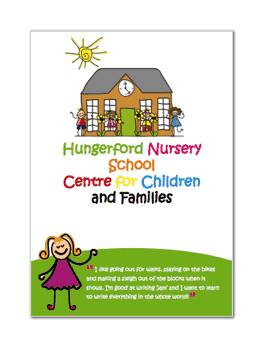 Children may be entered on the waiting list at two years of age, but all later applications will be considered.
Our purpose built Nursery and Children Centre opened in January 2005.
Services to parents and carers with children under the age of 5 years are provided on site and around the area. For more information please ring Marie Beasley, Family School Support Worker on 01488 682628 or visit our website.
Head of Centre: Mrs Suzanne Taylor.
Hungerford Nursery School, Centre for Children & Families, The Croft, Hungerford, Berkshire RG17 0HY.
Tel: 01488 682628 Email: office@hungerfordnurseryschool.co.uk or click here to access the Nursery School's website.
---
Ladybugs Parent and Toddler Group
John O'Gaunt Community Centre, Priory Road, Hungerford, Berkshire, RG17 0AN
Contact:Jude Hodge
Telephone:01488684957 Email:jude@hodgeonline.co.uk
Friday 9.30 - 11.30am
Term time only, ages 0 – 4
Drop-in session, newcomers always welcome. Friendly parent run group, £2 per session with parent/carer. Activity table, baby corner, mini trampoline, toy kitchen, push along cars, indoor slide, other toys and equipment. Juice, tea and biscuits included, singing at the end of the session, outings arranged during summer holidays.
---
Little Rainbows
Little Rainbows is an Ofsted-approved Day Care Nursery, the inspiration of Michele Murphy and Sherralyn Sparkes. Michele trained at the Norland Nursery Training College and later returned to work at the college, becoming the Deputy Head. Sherralyn has been part of the Hungerford community all of her life and

has two children, one of whom attended Norlands, where Sherralyn met Michele. Following the closure of Norlands, Michele and Sherralyn decided to set up a nursery that offered a similar ethos to Norlands, but with its own unique style.

From 7.45 in the morning to 6.00 in the evening, Little Rainbows provides the highest standard of care for its children, and by working closely with the parents of each child the children can be helped to reach their full potential. The nursery is purpose built and the high standard is reflected in the facilities provided. There are three light and airy rooms, two sleep rooms in the baby room, with a separate milk kitchen for preparing babies bottles, a large kitchen for the preparation of home cooked meals and a disabled toilet.

Outside there is a garden for the children which has rubber matting for year round play, a tarmac area for riding bikes, a grass play area, and a 'sensory garden'. To ensure a high level of safety the building is fully secured with external security cameras.

Little Rainbows employs fully qualified staff who have previously worked together before. Great pride is taken in ensuring that all employees are of the highest standard and are actively involved in the day to day running of the nursery, creating a happy and friendly atmosphere for the children in their care.

Little Rainbows is conveniently situated on the edge of Hungerford with ample safe parking and excellent access to the M4 and railway station. To arrange a visit or to request further information please contact either

Michele or Sherralyn on 01488 688866 or drop in and see us at Herongate, Charnham Park. Alternatively, email us at littlerainbows2004@)yahoo.co.uk
---
Little JOGS
Little Jogs Nursery and Pre-school is conveniently situated on the edge of Hungerford surrounded by playing fields and open countryside. The Nursery has a large enclosed garden, which is well resourced with play equipment and includes a tarmac area for bikes and scooters plus a vegetable garden.

Little Jogs provides a safe and secure learning environment for children from 9 weeks old to primary school entry between the hours of 8 a.m. to 6 p.m. Mondays to Friday except Statutory Bank Holidays. Vibrant colours and child-friendly features such as low level windows are designed to help children feel at home, complemented by a very experienced Nursery Manager and qualified Nursery Nurses. Each Nursery Nurse is responsible for a small group of children.

The Nursery is OFSTED registered and accepts the Nursery Education Grant.

The Nursery is divided into three age groups, Babies (3 to 18 months) with its own sleeproom, Toddlers (18 months to 3 years) and Pre-School (3 to 5 years). Within each area activities are balanced between group and individual play, noisy and quiet activities, structured and free choice. All activities are designed to ensure that children have fun whilst learning.

Each child has a personal record of their progress and development throughout their period at the Nursery, and these are available to parents at any time. Prior to children starting at the Nursery we encourage complementary settling-in visits to enable the child to become accustomed to their new surroundings.

We recognise the importance of a balanced diet and offer a wide range of healthy eating options including fresh fruit on a daily basis. Meals included are breakfast, mid-morning snack, a cooked lunch and afternoon tea.

The Nursery is conveniently situated off Priory Road and has ample parking.

We encourage you to visit the nursery before you enrol your child. Please contact the Nursery Manager Elena Allan on 01488 683533.

Website: www.littlejogsnursery.co.uk