Twinning
LATEST INFORMATION .... inc visit details etc .... click here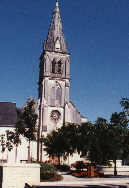 Hungerford is officially twinned with the town of Ligueil in Indre-et-Loire , France . Click on the town name or a photograph to visit their website.
In 1978 the annual parish meeting gave agreement for the Town Council to seek for a French partner. After several early attempts failed, Hungerford made approaches through the British Council and the E.U. In February 1980 the Canneton family from Ligueil arrived in Hungerford without prior warning.
Contact was made with Mayor Jack Williams and events then moved quickly. Delegations from both towns made visits and a target date was set for Charters to be signed between the two towns.
In November 1980 the Charter was signed in Ligueil and this was followed by a similar ceremony in Hungerford on - St Valentine's Day 1981. Approximately 1000 people attended the ceremony at Hungerford.
Since 1980 there have been many group delegations to and from the two towns including the Fire Brigade, the Round Table, the Town Band and almost immediately the John 0' Gaunt School entered into a regular pattern of visits. Hungerford has been represented at every Commice ( a regional cultural and agricultural celebration) held in Ligueil every six years since the Charter was signed..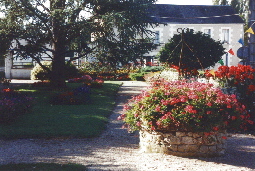 Generally twinning arrangements between towns tend to fade after a period of time; however in 2006 both towns celebrated 25 years of successful twinning. This has been maintained since and many long term friendships have evolved between Hungerford and Ligueil families. Regular bi-annual visits take place in which families of both towns visit Hungerford and Ligueil.
In 2008, a delegation from Ligueil visited Hungerford between Friday 22 and Tuesday 26 August.
If you would like to know more about Twinning or be involved in this year's visit, please do not hesitate to contact either Penny Brookman (Chairman) on 01488 683314 or Martyn Bright (Vice Chairman) on 01488 682065.
Vive la jumelage!